A full weekend of riding in the Fall beauty of Virginia!
The Shenandoah Bike Foliage Festival will be here before you know it! For those of you new to our festival, you'll enjoy a full weekend of riding some of the most beautiful parts of our state. Constant vistas of the Blue Ridge and Allegheny Mountains enhance your enjoyment of the scenic countryside of the Shenandoah Valley.
You'll pass bucolic farmlands (where the pace of life slows down so much, you may even pass a few horse-drawn buggies, especially on the BOBB Route), trees loaded with changing Fall colors, historic Civil War battlefields, and small towns with picturesque town squares and classic Americana architecture.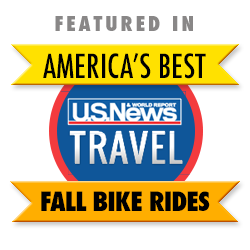 Our festival — which annually draws over 700 riders from up and down the mid-Atlantic states and beyond — was recently featured in U.S. News and World Report's Travel as one of America's Best Fall Bike Rides. We go out of our way to make sure you have enjoyable routes with plenty of rest stops (with snacks at each stop) and a hearty mid-ride (or pre-ride) meal on Saturday and Sunday prepared by the master cooks of our local Ruritan Clubs.
With the recent addition of our open-to-the-public Saturday Night Street Party, we offer you a central downtown location to meet up and unwind after a long day in the bike saddle. It's our way of thanking you for coming and thanking our fine community for being such great hosts for the last 26 years!
Weather
Typical weather for Staunton, Virginia in mid-October should be sunny days and cool nights. Daytime highs average in the mid-60s and nighttime lows in the 40s. Layered clothing is recommended. 
°
Weather from OpenWeatherMap
Bikes and Terrain
Road bikes, hybrids or mountain bikes are suitable for the on-road routes. Fat tire/hybrid bike is needed for country roads option on Sunday. A multi-speed with a double or triple chain ring is best for the terrain, as most routes have some climbing and wonderful descents (single speed beach cruisers not recommended). Family routes have some hills but have been chosen with the young or less experience cyclists in mind. As you can see from our various photos, people have enjoyed riding recumbent bikes, tandems and even fold-up bikes on our routes.
Here's What Our 2016 Festival Schedule Looks Like
5 p.m. — Registration/Check-in opens at Shelburne Middle School. Enjoy an opening food reception (while the food lasts), and if you're here early enough, then head into town to stroll the streets, have some dinner, or catch a play at the Blackfriar's Playhouse.  Learn more about Staunton.
7 a.m. — Registration/Check-in at Shelburne Middle School (for those who did not check-in on Friday). 
8 a.m. — Routes open: Century Group Start at Shelburne. Metric Century riders and Natural Chimneys Loop riders can start any time (no group start).
8 a.m. — Routes open at Shelburne and Natural Chimneys: Remote start location for Family Ride and BOBB Route (36-miles). Start when you want.
10:30  a.m. — Lunch opens at Sangerville-Towers Community Center. Enjoy live music from Sarah Lynna & the Misfit Toys (country blues) from 11:30 a.m.–1:30 p.m.
4:00 p.m. — Routes close (SAG and radio support ends)
5:30 - 8:30 p.m. — Downtown Street Party at the Sunspots Stage with Melissa and the Growlers with the 8-point Horns
8 a.m. — Registration/Check-in at NEW LOCATION Middlebrook Community Center (for those who did not check-in on Friday). 
8 a.m. — Route open: 1 Start at Shelburne for the Middlebrook loop (rides to the Middlebrook Community Center for a hearty brunch)
8 a.m. — Routes open: Middlebrook Community Center
8 a.m. — Brunch: Middlebrook Community Center (enjoy a hearty breakfast/brunch throughout the day of riding at our Middlebrook "headquarters")
4:00 p.m. — Routes close (SAG and radio support ends)
Dinner on your own and drive home safely!