Great rides for all levels! With a new start location we have revised the longer Saturday routes. The Century (101 miles), Metric (65 Miles) will both begin/end at St. Paul's United Methodist Church (our NEW Saturday check-in headquarters) in Staunton. New for 2018 is the Tour De Farm route for Saturday — a 24-mile loop that begins and ends at St. Paul's (NOTE: this loop does NOT pass by the lunch stop). Our popular Family Loop  and our  "Bobb" Loop (34 miles) will begin/end at the lunch site near Natural Chimneys. 
And we have some new things for you on Sunday as well. All of our five Sunday routes all begin/end in Middlebrook which is the breakfast/brunch site. Sunday check-in will be at Middlebrook Community Center The Century (100) is still three loops. If you complete just two of those loops, you get our "Lazy" Metric (it's "only" 57 miles). Our other three routes are the McKinley Loop (27 Miles), last year's new favorite,  Fields of Gold Loop (FAT TIRE-20 miles), and the always popular Sunday Family Loop (10 miles).
Keep checking back here and to our Facebook page as we're beginning the process of getting elevation profiles for all of the routes and will post the information on each route as we have it.
---
Looking to download our GPS routes to your Garmin device?
Refer to these instructions online — or watch this instructional video:
---
Saturday's Shenandoah Century
The century ride for Saturday takes you over scenic vistas and through lush Shenandoah Valley landscapes
Saturday's Metric Century
The Metric Century for Saturday has some spectacular views, but with over 4,500 ft in elevation gain throughout the course, you'll be working for them! (On the printed cue sheet in our Event Guide, you'll see there's an option to shorten this route to 52 miles by taking a simple short cut.)

Saturday's BOBB Loop
Saturday's Tour de Farm Loop
New for 2018 — The new Tour de Farm route is a 24.3 loop that starts and ends at St. Paul's Church with rest stops at Salem Church and a smaller, farm visit stop at Project Grows (which you can read more about in our Event Guide!) You will also pass "Fields of Gold" Farms: Eco-Farm on Shutterlee Mill Rd. and Cool Breeze Farms on Salem Church Rd. Please note: this route does NOT stop at the Saturday lunch location. Please follow driving directions in the Event Guide to locate the Saturday lunch stop at Sangerville-Towers Ruritan Community Center.
Saturday's Family Route
 NEW ROUTE in 2016: The family route is a fairly flat ride with about 700 feet of elevation gain over 13.2 miles. This ride can be shortened to 7 miles by taking the "super not-so-secret-shortcut", depending on how far the little ones want to ride. It goes past the lunch spot, so folks can either stop for lunch or ride back to Natural Chimneys and drive to lunch.

Sunday Century
Sunday 2 Loops – 73-miler
Sunday Lazy Metric
Sunday's McKinley Loop
Sunday Fat Tire (Fields of Gold Loop)
NEW in 2016, this quickly became one of our favorite rides! The Fields of Gold Fat Tire Loop: leaving from Middlebrook Community Center, this loop passes by a number of the Fields of Gold Farms (Including Sunrise Orchards and Meadowcroft Farm) and includes a rest stop at Joel Salatin's renowned sustainable family farm, Polyface Farms. At all these farm stops, you can purchase goods and have them delivered by car back to the Middlebrook Community Center.
Ride Support
Bike Repair
For on-site repairs, Cycles Ed will be available at St. Paul's UMC on Saturday morning (pre-ride), then he moves to the lunch stop at Sangerville-Towers Community Center. On Sunday, find him at Middlebrook (brunch location). Based out of Ashland, VA, Cycles Ed also offers custom and specialty services for the repair/maintenance of quality bicycles as well as custom frame fabrication, including machine work and frame modifications. When he's not working bike festivals, all hours by appointment only. | Visit CyclesEd on Facebook.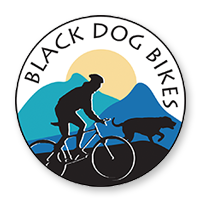 Staunton's own Black Dog Bike Shop is located on Lewis Street in downtown Staunton (across from Friday's new registration location, and next door to Sunspots Pavilion — the Friday & Saturday night street party venue). James and his team will be open throughout registration on Friday and offering special free giveaways to our festival participants and they typically offer a great discount to all riders throughout the entire Festival weekend. Black Dog Bikes can also handle repairs, or sell you a new bike, too! Visit the Black Dog Bikes website for more information.
SAG
SAG is furnished by the Valley Amateur Radio Club. We appreciate their fine support of our race from year to year!